Research
Concept Iteration
Visual design
Collaborators
Antonio Song
Sharon Lee
2 weeks

Zoom Agenda is a real-time ticker that tracks your meeting agenda to help you wrap up your meetings on time.


As myself and my fellow classmates began having meetings and classes virtually under the heavy situation of COVID-19 and the global pandemic, we noticed that these virtual meetings tend to go over time more often due to a lack of physical constraints such as meeting room spaces. As a result, we came up with a time keeping feature on Zoom to help users stay on track and ultimately help them have an efficient use of their meetings.




More than 60% of the users experience over-time meetings more frequently during the work-from-home setting.
Having all of our class meeting through Zoom, Antonio and I realized that our virtual meetings were going overtime far more often than usual. I also wanted to see whether others were facing a similar situation. Reaching out to friends and co-workers we realized that more than 60% of them struggled with over-time meetings during the work-from-home setting. 5 out of 8 participants agreed that the virtual meetings generally tend to lack in structure compared to meetings that take place in a physical meeting room.
More meetings go over time with fewer ways to apply physical constraints to the meeting times and even when people start out with an agenda, it's easy to get sidetracked.

We've noticed more meetings were going over the planned duration due to fewer ways to apply physical constraints to the meeting times, such as being kicked out of the conference room. We wanted to come up with a solution with minimum changes to the current Zoom experience. We conducted a brief survey of the Zoom system and decided to create a feature that can reside under the meeting tab. While our main feature will live on the meeting tab, the users will see a real-time ticker during the video call once they've created the agenda.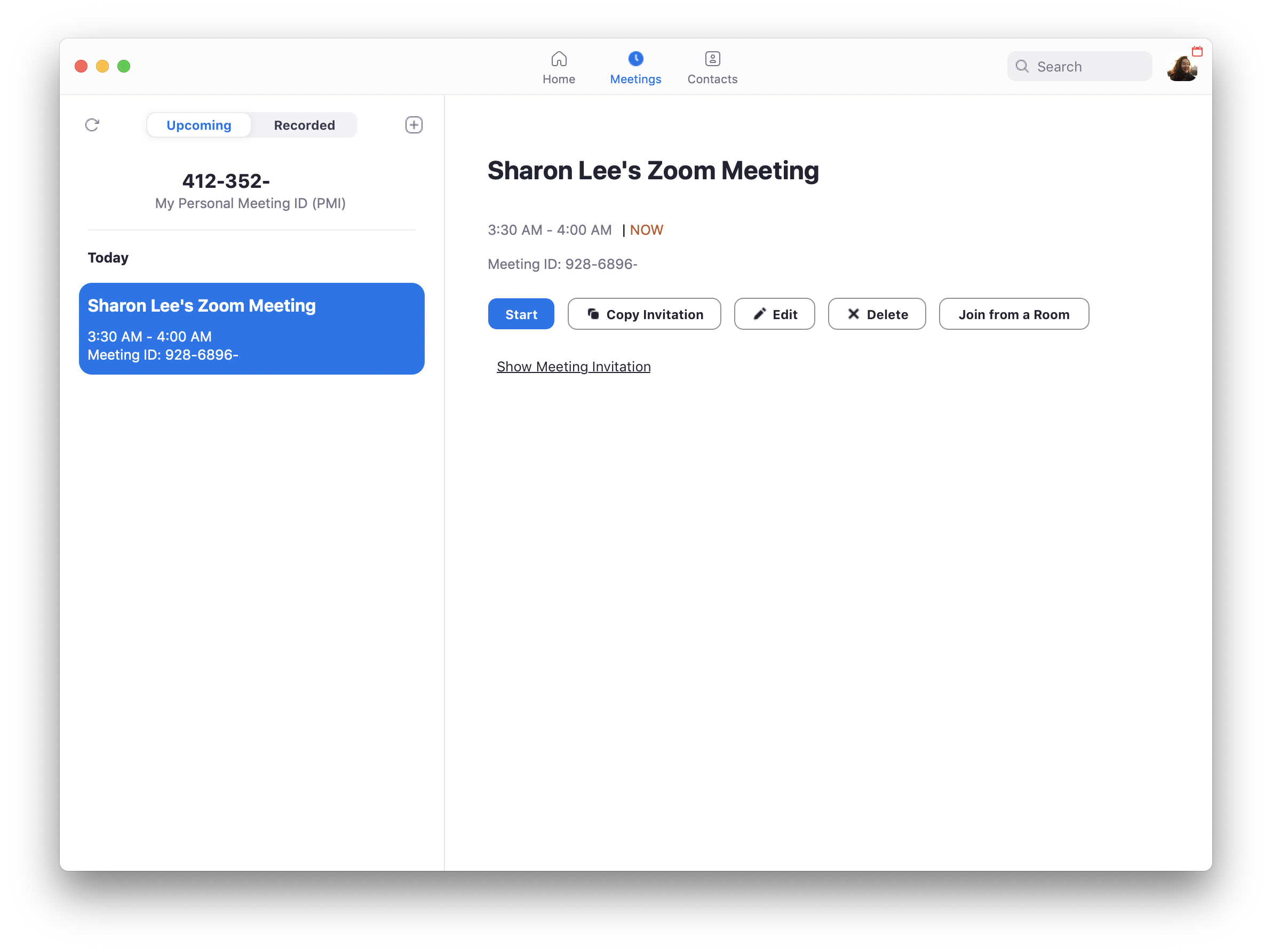 Meeting Tab in Zoom




Explorations
We iterated on multiple concepts to deliver the most intuitive and efficient version of the timeline/time ticker.

With this goal in mind, we moved on to Figma to brainstorm concepts with consideration for Zoom's visual language and how our feature will work hand-in-hand with the existing Zoom features.
Concept iteration for timeline



Concept iteration for time-ticker




Timeline iterations
For our first iteration, we attempted to create a timeline based on the traditional construct of time flowing horizontally.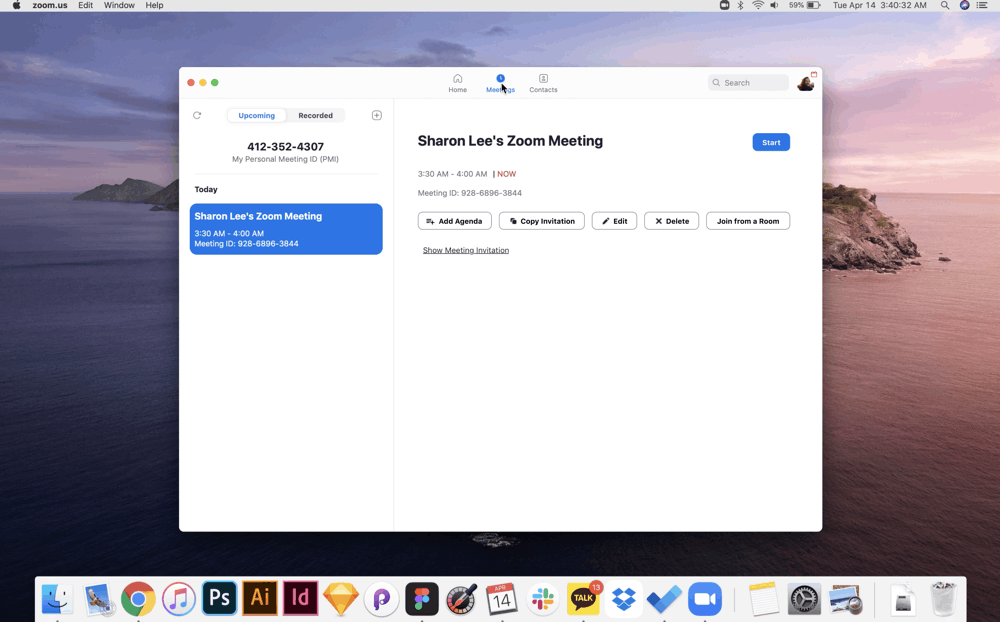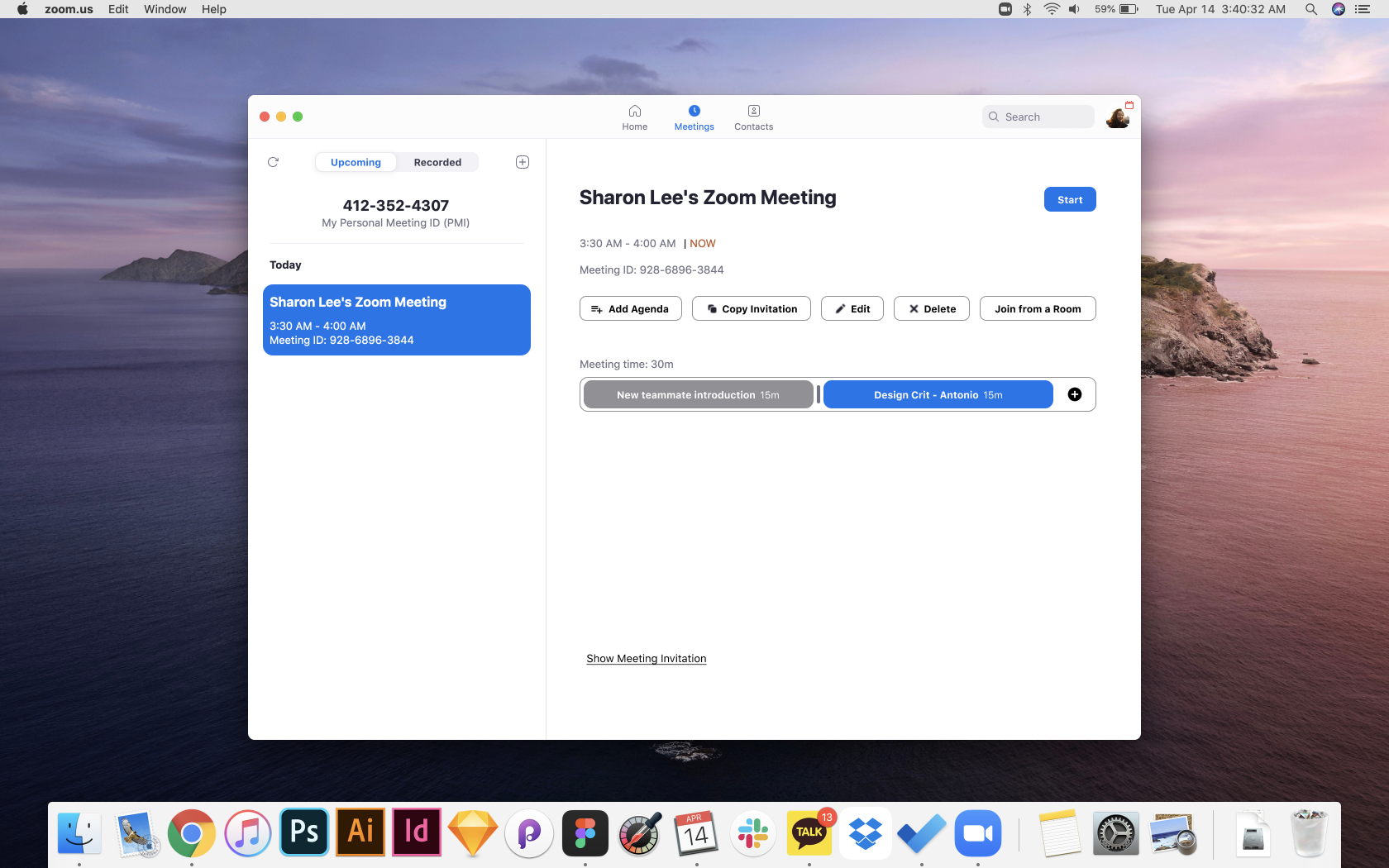 We soon realized that the horizontal timeline breaks easily with lengthy contents and longer time intervals. Instead, we decide to pursue a similar concept but vertically. This way we were making use of the large white space on the interface as well.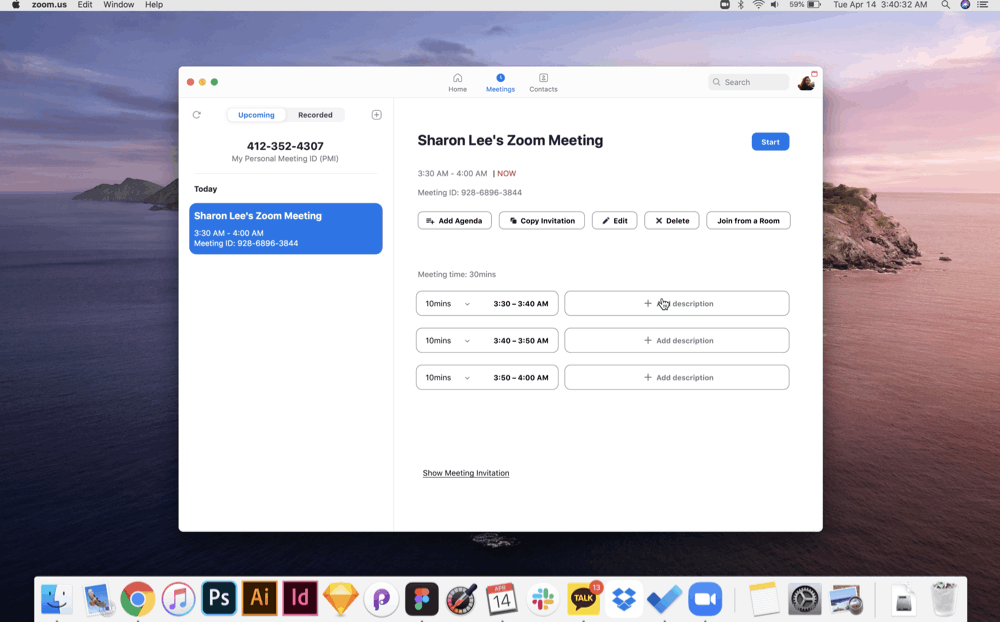 Time ticker iterations
The time ticker will display the breakdown of the agenda items during the video call. Since there is a significant room on the interface we can work with we decided to explore two placement options – on the top and on the bottom right corner.
One of the biggest challenge of the project came from deciding on how to display time on the tickers. We considered either displaying the time elapsed, time remaining, or the total time allotted.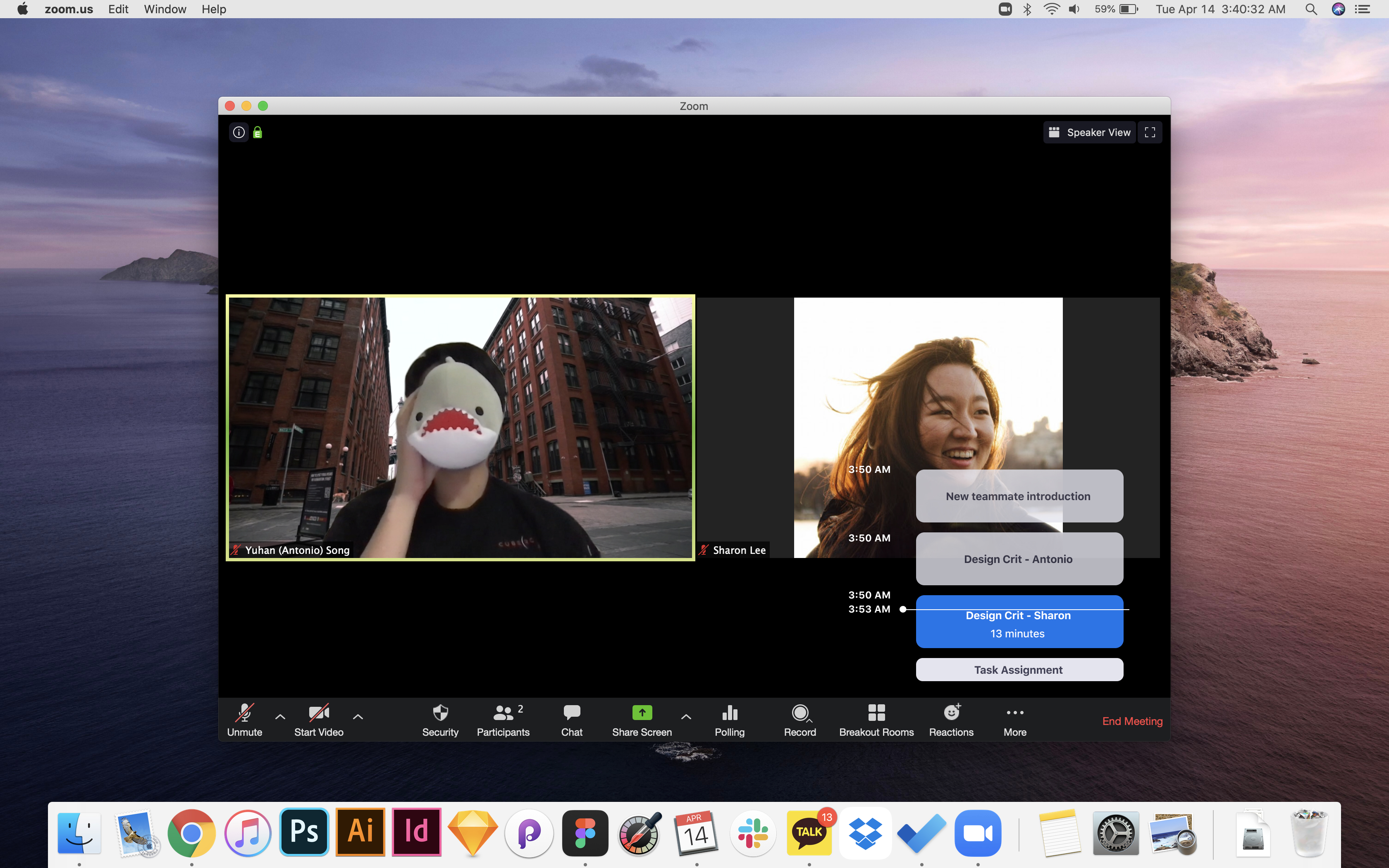 Final Outcome


As a result of the project, we delivered an interactive prototype of Zoom Agenda feature using ProtoPie. The first feature is agenda creation, where you can input the duration of the meeting and allot time for each agenda item. The second feature is a time-ticker that reminds users of the agenda items, which gently nudges them to efficiency wrap up the meeting on time.